This
post
was originally published on
this site
We're all square at 10-all.
The 49ers reverted to the run game which has worked so well all season and it paid dividends.
They marched downfield before letting Jimmy Garoppolo throw the ball and he found Kyle Juszczyk for the touchdown.
This fan fast asleep at the game is something else.
The interception gifted KC prime field position.
While they couldn't come up with another touchdown, they extended their lead to 10-3 after another field goal.
Their offense is humming.
Kansas City have come up with the first big defensive play of the game.
After pressuring Jimmy Garoppolo in the pocket, the 49ers quarterback threw an interception straight to Bashaud Breeland.
Worrying signs for San Francisco.
There has been plenty of speculation about Tom Brady's future in recent weeks.
He just trolled the world with this brilliant Hulu commercial.
If you know a Patriots fan, please check on them.
After failing to pick up one first down with their first use of the ball, Patrick Mahomes and the Chiefs marched downfield.
Coach Andy Reid then gambled on fourth and one and earned a huge first down.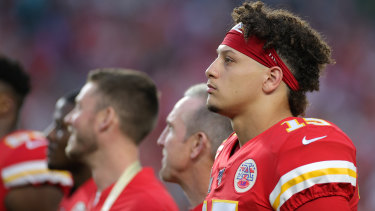 Patrick Mahomes scored the first touchdown of the game.Credit:Getty Images
Two plays later, Mahomes ran the ball in for a touchdown.
The Chiefs lead, 7-3.
This Donald Trump commercial just aired in the US during an ad break.
Fair to say it hasn't received the warmest of receptions.
One of the thousands of things you can bet on during the Super Bowl is the coin toss.
It's true, tails never fails.
The 49ers won the toss and have deferred, giving the Chiefs first use of the ball.